THDA's Strategic Plan
At THDA, we believe success requires clear goals and strategies. We also believe in accountability. To that end, we create and live by a detailed strategic plan that we make available to the public.
The THDA Board of Directors approved an updated Strategic Plan in July 2018. The board has regularly reviewed and approved updates to our plan, thereby ensuring that we are continuously improving our performance. The plan is divided into Aspirations and Goals, with high-level "Where to Play" guidance and specific "How to Win" strategies for each. The overall aspirations under the plan, for overall agency performance and for both Homeownership and Rental Housing, remain the same. Please take a look at the strategies we have adopted this year and let us know what you think!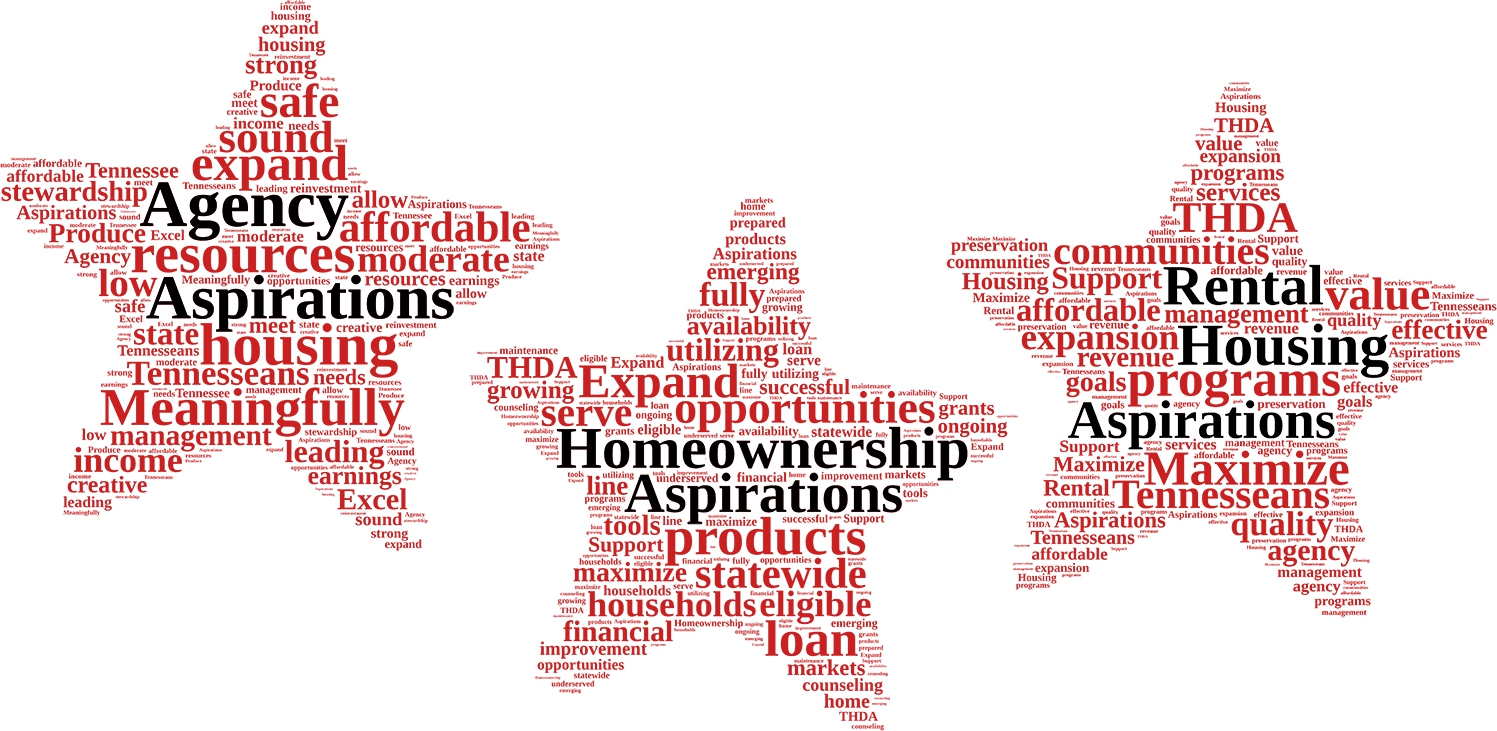 Homeownership Aspirations to Succeed
Rental Housing Aspirations to Succeed

Agency Aspirations to Succeed
Meaningfully expand safe, sound, affordable housing opportunities for low and moderate income Tennesseans as the state's leading resource.
Excel in the management and stewardship of our resources. Produce strong earnings that allow creative reinvestment to meet the housing needs in Tennessee.
Expand Housing Opportunities
Goal: Improve the lives of many Tennesseans by effectively managing federal programs that meaningfully expand access to safe, sound, affordable housing for low and moderate income Tennesseans.
Where to Play
Where the program provides a substantial and direct expansion or improvement to the availability of safe, sound, affordable housing, aligned with THDA's mission and strategy.
Respond to directives set forth by THDA's Board of Directors, the Governor's office, and staff evaluations of need, opportunity and cost/benefit analysis.
How to Win
Enter strategic partnerships to share/overcome regulatory burden.
Review and clearly establish direct and indirect costs in a way that most accurately reflects the actual cost of administration
Goal: Meaningfully expand housing opportunities and maximize the State's resources through productive, creative partnerships with other State agencies.
Where to Play
Intentionally position ourselves to respond to compelling proposals to address the needs of the state as they arise.
Based on THDA's adopted strategy and state needs, establish funding priorities.
How to Win
Maintain financial flexibility to be able to respond to opportunities.
Establish program targeting mechanisms, and target outreach to identified priority areas or populations
Management and Operations
Goal: Excel in the leadership and management of our resources with strong planning, execution and evaluation.

Where to play:
Respond to directives set forth by THDA's Board of Directors, the Governor's office, and staff evaluations of need opportunity and cost/benefit analysis.
Work through partners who have proven success in THDA's programs.
Address strategic issues as articulated by the Board of Directors.
How to win:
Ensure effective operation and outcomes of THDA programs through regular, periodic program reviews.
Reduce the moral obligation of the state through bond management.
Produce Strong Earnings
Goal: Produce strong earnings in our revenue generating programs.

Where to play:
Invest resources to ensure robust Single Family production.
Practice strong overall debt and bond interest expense management.
Continue loan servicing.
How to win:
Engage in product and message outreach to emerging and underserved markets.
Maximize earnings while minimizing expenses.
Administer loan program requirements in an efficient & effective manner so that losses are minimized and earning potential is maximized.
Expand loan servicing capacity & operations.

Homeownership Aspirations to Succeed

Expand homeownership opportunities statewide to serve well-prepared, eligible households, fully utilizing THDA's financial tools to maximize our product line and loan availability to growing, underserved, and emerging markets.
Support successful, ongoing homeownership through programs, partnerships, information and effective communication.
Homeownership for Moderate Income Buyers
Goal: Serve as moderate income Tennesseans' first choice for an affordable home loan.
Where to Play:
Offer conventional loan products.
Well prepared households with acceptable credit profiles.
Expand manufactured housing opportunities.
Implement a mortgage credit certificate program.
How to win:
Cultivate lending partnerships in rural areas to open rural markets that do not have a direct endorsement underwriter.
Develop diverse loan funding mechanisms that will allow THDA to explore flexibility in our loan programs.
Administer and evaluate the DPA program using HHF/Treasury funds
Strategic direct marketing to repeat homebuyers, realtors, renters and corporate connections, manufactured housing communities, minority populations.
Homeownership for Low Income Buyers
Goal: Identify and create well-prepared, eligible low-income homeowners.
Where to play:
Expand pre and post purchase counseling opportunity for low income buyers and potential future buyers through existing community partners.
Use social/ web-based media as means of providing greater access to homebuyer education, financial literacy materials and loan products.
Offer New Start loans.
How to win:
Create an online portal on the THDA website that offers counseling modules
Provide individual counseling to THDA FSS and HOV participants
Require Post-Purchase Counseling for New Start & HHF DPA.
Active program management, including enhanced participant application process
Well-Prepared Households
Goal: Make Tennessee workforce aware of eligibility for home loan products and education to prepare for homeownership through our Step In program.

Where to play:
Access the homebuyer market of the state's largest employer creating well-prepared homeowners through THDA home loan products and pre- and post-purchase education.
Expand participants in the Step In initiative beyond state agencies
How to win:
Take advantage of established relationships, existing financial literacy networks, and already certified THDA staff to provide housing counseling to employees of state agencies and other participating entities in order to create awareness of THDA products and also to create well-prepared households.
Public and private partners consider this a regular part of their benefits package and it is reflected in regular processes.
Goal: Enhance THDA's role and reputation as counseling advocate and partner
Where to play:
A network of counselors/educators.
How to win:
Through THDA counseling team, bring together counseling initiatives and communications.
Expand our network of counselors/educators.
Ongoing evaluation of counselor/educator performance
Goal: Create well-prepared households through pre-purchase education
Where to play:
How to win:
Engaging them through technology, educating them through housing counseling.
Direct marketing campaign in the same method as Great Choice utilizing direct mail, digital advertising and social media.
Quality, Sustainable Housing
Goal: Ensure that all homeowners receiving THDA assistance have the knowledge, skill, and means to maintain and repair their homes for the lowest possible cost. Ensure all units with THDA funding remain sustainable, accessible, safe, sanitary and energy efficient and in good repair.
Where to play:
Homeownership, Home Maintenance/Repair Programs, Home Modification & Ramps Program
Rental Housing Development, Repair and Maintenance Programs
How to win:
Program-specific design thresholds are implemented and reviewed periodically for compliance for all THDA-assisted housing. An energy efficiency threshold is implemented and reviewed periodically for compliance for all THDA funded housing.
Provide post-repair or energy efficiency education where appropriate or support efforts by outside partners to provide post-repair or energy efficiency education.
Offer home repair loans and grants to owner occupied, low income households aimed at sustainability and energy efficiency with program specific targeting.
Create system efficiencies that attract and retain contractors to participate in the programs.
Identify ways to align requirements and delivery of repair programs based upon the population served, including HOME program match requirements.
Effective Portfolio Management through Direct Loan Servicing
Goal: Promote successful long-term homeownership through high quality customer service. Protect revenue through efficient operations and minimizing losses while preserving investor interests.
Where to play:
Existing THDA portfolio
All new flow THDA loans
How to win:
Develop VMLS capabilities through staff education and technology enhancements.
Successfully convert US Bank subserviced loans to VMLS.
Convert 100% of new single family production (flow) onto VMLS platform.

Rental Housing Aspirations to Succeed

Maximize the value of THDA rental housing programs to Tennesseans and their communities through the expansion and preservation of quality affordable housing.
Support agency revenue goals through effective management of programs and services.
Rental Preservation and Development
Goal: Increase availability and quality of rental units. Develop ways to encourage and support efforts to develop in rural areas.
Where to play:
All across Tennessee – in urban, suburban and rural markets.
All THDA Rental Preservation and Development Programs.
How to win:
With rental units that meet inspection thresholds defined by the program.
Maximize the use of THDA resources in rental housing through an appropriate scoring methodology
By increasing the number of quality units funded in non-MSA or agency defined rural counties.
Goal: Increase number of hard-to-house households served and consider other sources of gap financing for affordable rental housing development.
Where to play:
Collaborations with Public Housing Authorities in the LIHTC program (using both 9% and 4% percent credits)
Through the National Housing Trust Fund (NHTF) and the competitive program of THDA's Trust Fund.
How to win:
Provide a PHA preference in LIHTC QAP.
Continue the NHTF program, providing a priority for developments with project-based rental assistance.
Goal: Encourage rental developments that improve the vitality of the community and developments that increase options for lower income families.
Where to play:
All rental housing development programs.

In areas where market needs and conditions justify development.
In areas that meet the criteria for a community revitalization plan or developments that contribute to the economic revitalization of an area.
Developments located in economically vital communities, with access to good jobs and quality education.
How to win:
Utilize applicable information from market study in underwriting criteria.
Begin to implement a scoring methodology that incorporates elements of community vitality.
Assisting Renters
Goal: Ensure effective management of HCV that are used in Tennessee. Increase quality landlord participation in Section 8 HCV.
Where to play:
Target utilization regionally to maximize HUD Annual Contributions Contract funds.
Improve landlord recruitment & relationships.
How to win:
Continuously review internal procedures in HCV program through internal focus groups for landlord relations, HQS inspection process, financial and technical/systems improvement.
Increase presence, participation and functionality of TNHousingSearch.org.
Meet HUD's high performer status for the Section 8 Management Assessment Program (SEMAP).
Goal: Improve and expand rental housing opportunities for target population.
Where to play:
In counties where the local PHA needs support to maximize HCV utilization.
Section 8 voucher holders who are:

Disabled/elderly.
Ex-offenders.
How to win:
Develop model plan for THDA/PHA partnerships.
Continue to offer program preferences for disabled/elderly receiving social security income.
Explore possibilities for Place-based Vouchers in relation to new Mainstream/811 voucher applications.
Review policies around criminal activity to ensure compliance with HUD guidance on Fair Housing & to ensure policies make the program accessible to ex-offenders where appropriate.
Serving the Homeless and Those at Risk for Homelessness through Prevention and Enhanced Housing Stability
Goal: Meaningfully expand or preserve the housing resources of hard-to-serve populations at risk for homelessness who are not otherwise served by other housing programs.
Where to play:
Populations who do not have affordable housing programs targeted to their needs who are receiving services through DCS, TDOC and other relevant state agencies.
THDA funds could make a meaningful contribution to the population's housing need.
How to win:
Prioritize housing for Youth transitioning from Foster Care and Ex-offenders.
Incentive provisions in the HTF Competitive Grants as appropriate, ensure that funded projects include significant wrap-around services.
Explore using HOME funds for rental assistance for transitioning youth.
Goal: Work to develop resources that would improve the stability of individuals and families who are homeless.
Where to play:
Veterans experiencing homelessness, individuals experiencing chronic homelessness, families experiencing homelessness, and those at-risk of homelessness
How to win:
Work with PHAs and others serving extremely low income households to increase housing opportunities for those at risk of homelessness.
Identify opportunities to expand THDA support to local COCs to address homelessness.
Develop strategies to make rental assistance programs coordinate more effectively with housing development programs in order to improve service for hard to serve populations and those experiencing homelessness.
Increase landlord and service provider education opportunities with respect to fair housing laws, legal aid services, tenant rights and responsibilities, housing individuals with felonies, housing registered sex offenders, homelessness prevention services, referral processes between different agencies, and the utilization of the TNHousingSearch.org.
Explore opportunities to increase the number of VASH vouchers and utilization in Tennessee.