The Hardest Hit Fund Blight Elimination Program (BEP) assists with the removal of blighted properties in targeted areas within the state of Tennessee. THDA works in partnership with approved non-profit agencies and land banks (program participants) to strategically target residential single-family properties for demolition, site improvement, and acceptable reuse.
The BEP's purpose is to reduce foreclosures, promote neighborhood stabilization, and maintain property values through the demolition of vacant, abandoned, blighted residential structures, and subsequent greening/improvement of the remaining parcels within the targeted counties.
Targeted counties for this program are:
Shelby, Madison, Montgomery, Hamilton, Anderson, and Knox





What standards must the property meet to be eligible for the BEP?

Existing single-family (one- to four-unit) house
Located in an eligible county
Be a nuisance due to abandonment and/or other adverse condition
Meet Tennessee's definition of "blight" according to TCA Title13, Public Planning and Housing
Cost to acquire (if necessary), demolish, green, and maintainthe property for up to three years does not exceed $25,000
Pass a Property Condition Checklist test
Qualify for lawful demolition
How can I apply to become a BEP Approved Program Participant?
To become a program participant of the BEP, you must be a non-profit organization organized under Tennessee laws with a 501(c)(3) designation or a land bank organized under Tennessee laws, have experience in demolition and building affordable housing, and apply and apply to become an approved participant of the program. To apply, you must complete a detailed Application and submit it to THDA for review. THDA will review and respond to your request to become a program participant within 30 days of receipt. THDA will only review completed applications. Applicants are encouraged to use the Application Checklist provided with the Participant Application to avoid submitting incomplete applications. Once the program participant is approved to partake in the program, their agency's name will be listed on this website.
Participant Applications may be submitted electronically to BEP@thda.org or by mail to:
Tennessee Housing Development Agency
Attn: Special Programs
502 Deaderick St., 3rd Floor
Nashville, TN 37243

Where can I find a blighted property for this program?
Your local city, county, and land bank oversee a large number of properties that may qualify for this program. We encourage the program participant to communicate with their local municipality to see how they can work together to identify properties for this program.
How does this program work?
An approved program participant will submit a BEP Loan Application to THDA for a BEP loan. This application will contain the location of the property, neighborhood conditions, estimated costs for property removal, estimated costs of greening (if applicable), and the end use of the vacant lot. If the application is approved, the program participant will be provided with funding by THDA (Stage 1 loan) for a loan amount not to exceed $25,000 for the acquisition, demolition, and greening of blighted property. Once the entire demolition and greening process is complete, a mortgage loan (Stage 2 loan) funded by HHF will be placed on the property for the total cost of acquisition, demolition, and greening. This loan will be at 0% for 3 years and forgiven 1/3 per year. During the 3 years the mortgage loan is on the property, THDA will monitor and track how the demolition of the blighted property increased values of the neighboring properties and how it helped promote a positive effect on existing neighborhoods.
BEP Process Flow: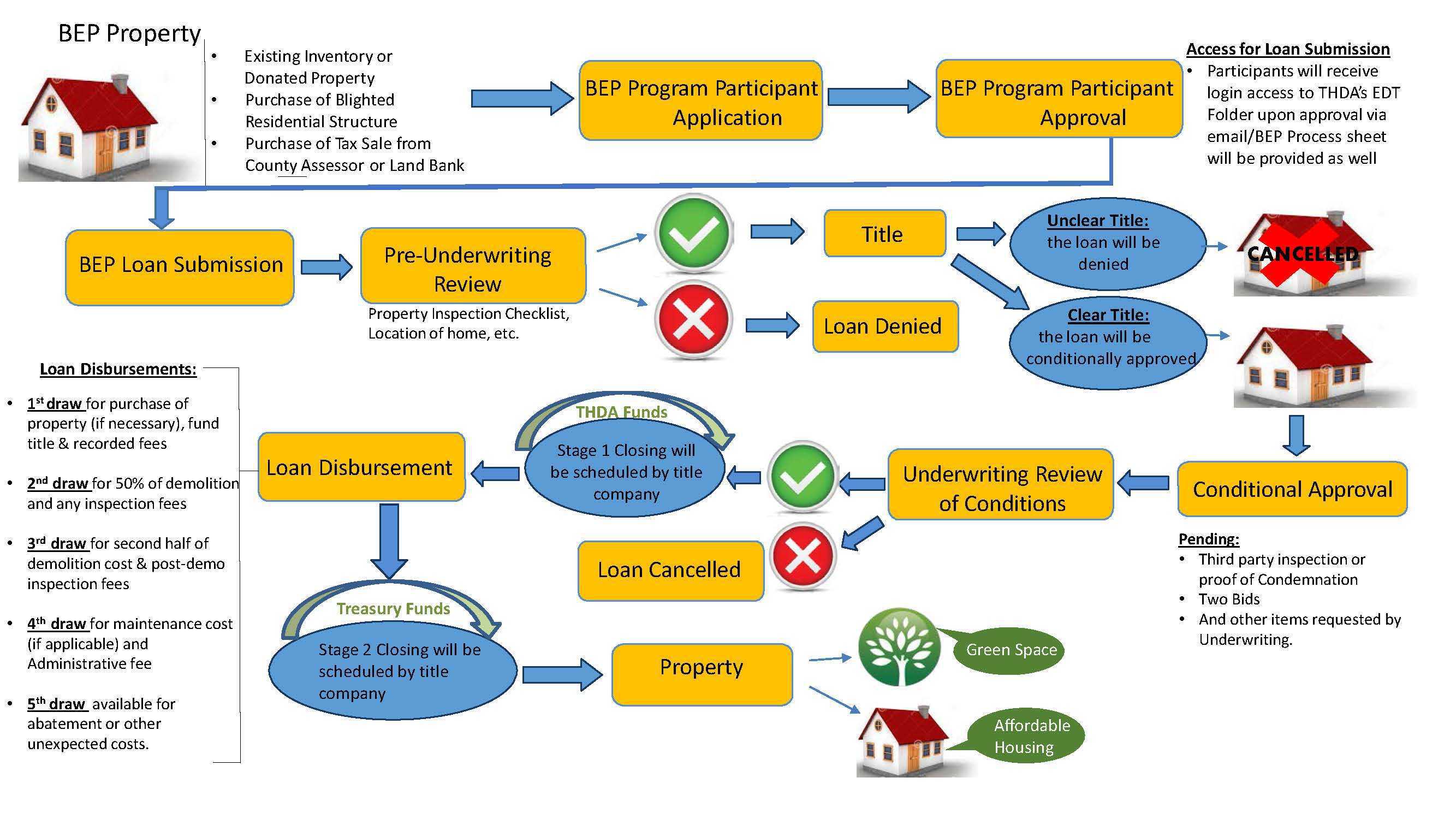 To obtain additional information about this program, please email BEP@thda.org.


PROGRAM GUIDE


REVISIONS TO GUIDE
MEMOS TO PARTICIPANTS
FORMS
Participant Application Forms:



BEP Forms: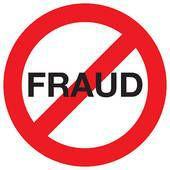 Suspected Fraud
Any suspected fraud in connection with the HHF Blight Elimination Program should be reported to THDA for immediate review. THDA reserves the right to decline funding or participation if it is determined that fraud has occurred.


Report Fraud To: