Tennessee Repair Loan Program
The Tennessee Repair Loan Program (TRLP) will help sustain homeownership across the state. The program goal is to help provide safe and sound housing to households of low income, veterans, seniors and homeowners with special needs through loans for repairs or improvements.
Who is eligible to apply?
A resident owner of a 1-4 unit stick-built or manufactured home (single or double-wide) that requires repairs or modifications. The applicant must have owned and occupied the property for a minimum of 5 years.
Ineligible Property Types:
Commercial properties, multifamily properties, and properties listed on a state or national historic register.
Terms of the Loans:
Loan Amount up to $25,000
0% Interest Rate
No Monthly Payment
5 – Year Loan Term (forgivable 20% per year)
No Prepayment Penalty
Post-Purchase Homebuyer Education required
How do I apply for a loan?
In order to apply for a TRLP loan you must contact an approved TRLP Program Participant. The Program Participant will determine if you meet the basic loan qualifications and if your repairs or improvements fall within THDA's approved activities.
How do I locate a Program Participant in my area?
Below are the approved agencies for the State. If your county does not appear in the list, please email sfspask@thda.org for assistance in locating a Program Participant in your area.
Agency
Counties Served
Clinch Powell
7995 Rutledge Pike, Rutledge, TN 37861
(865) 828-5927
Claiborne, Grainger, Hamblen, Hancock, Hawkins, Jefferson, Knox, Union
Chattanooga Neighborhood Enterprise
1500 Chestnut Street, Suite A, Chattanooga, TN 37408
(423) 756-6201
Hamilton
Habitat for Humanity of Greater Memphis
7136 Winchester Road, Memphis, TN 38125
(901) 761-4771
Shelby
United Housing Inc.
2750 Colony Park Drive, Memphis, TN 38118
(901) 272-1122
Shelby
Appalachia Service Project
4523 Bristol Highway Johnson City, TN 37601
(423) 854-8800
Washington, Carter, Unicoi
Community Redevelopment Agency of Jackson
111 East Main Street, Suite 201 Jackson, TN 38301
(731) 984-2160
Madison
Southeast Tennessee Development
P.O. Box 4757
Chattanooga, TN 37405
(423) 266-5781
Hamilton, Marion, Grundy, Sequatchie, Bledsoe, Polk, Rhea, Meigs, McMinn, Bradley, Dade, Walker, Catoosa
Frayser Community Development Corporation
3684 North Watkins, Memphis, TN 38127
(901) 354-9401
Shelby (Frayser Community Only)
Eastern Eight Community Development Corporation
214 East Watauga Avenue Johnson City, TN 37601
(423) 232-2042
Carter, Greene, Hancock, Hawkins, Johnson, Sullivan, Washington, Unicoi
Northwest Tennessee Development District
124 Weldon Drive Martin, TN 38237
(731) 587-4213
Benton, Carol, Crockett, Dyer, Henry, Gibson, Lake, Obion, Weakley
The Housing Fund
305 11th Ave S, Nashville, TN 37203
(615) 780-7000
Davidson, Montgomery, Maury, Cheatham, Dickson, Robertson, Rutherford, Sumner, Wilson
Rutherford County Habitat for Humanity
850 Mercury Blvd Murfreesboro, TN 37130
(615) 890-5877
Rutherford
South Central Tennessee Development District
101 Sam Watkins Blvd.
Mt. Pleasant, TN 38474
(931)379-2931
Perry, Wayne, Hickman, Lewis, Lawrence, Maury, Giles, Marshall, Bedford, Moore, Lincoln, Coffee, Franklin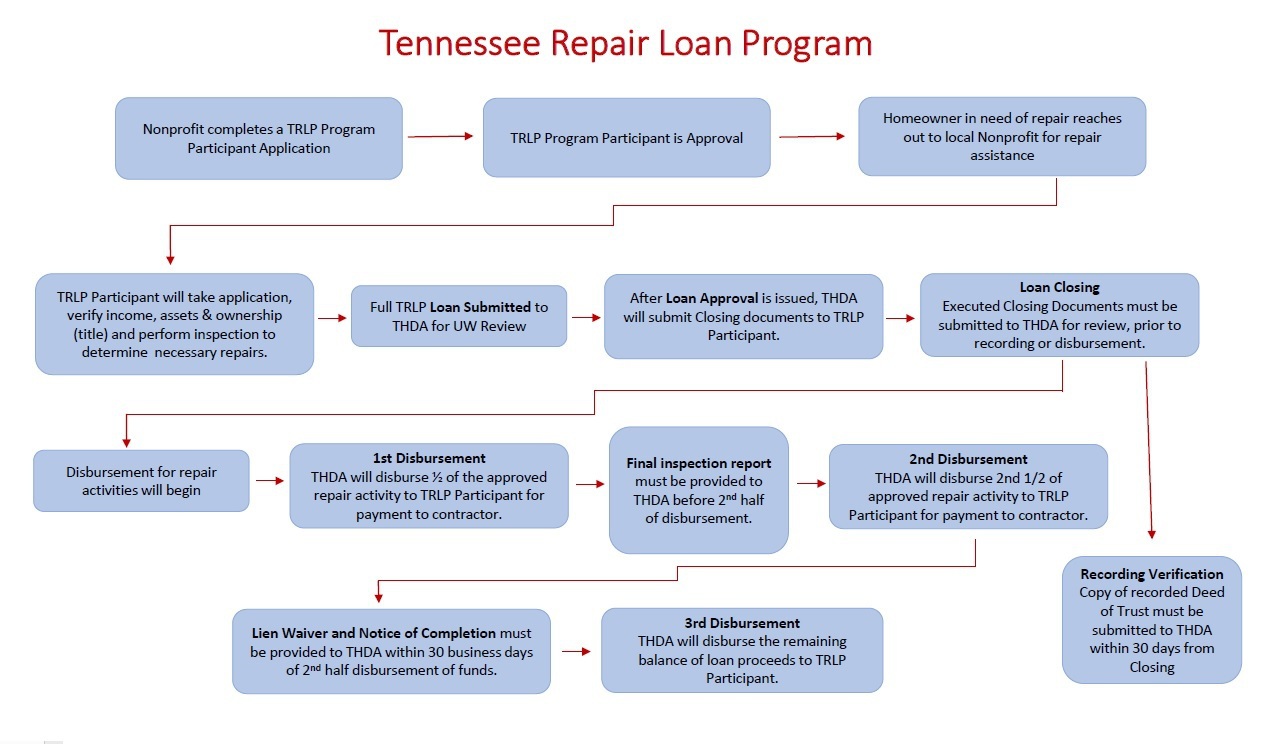 Resource Links