Low Income Housing Tax Credit Interactive Map
We are proud to present THDA's new Low Income Housing Tax Credit Interactive Mapping Tool. This online mapping tool allows users to search and browse low-income housing tax credit (LIHTC) properties placed in service. The map also provides detailed information about each property, including address, number of units, year the credit was allocated, year the project was placed in service, the annual allocation amount, 10-year award total, and whether the project was new construction or acquisition and rehab.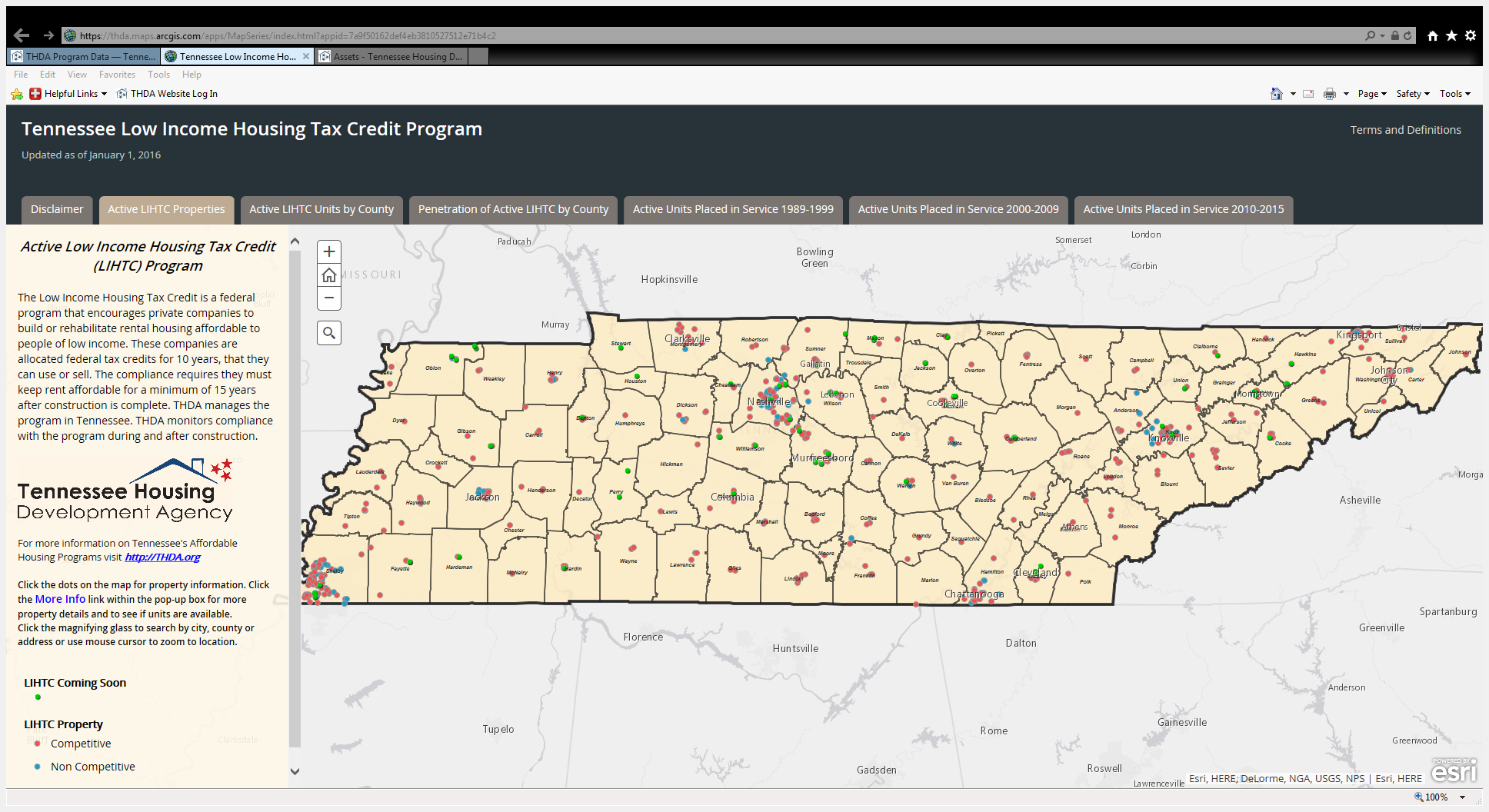 Low Income Housing Tax Credit Program Reports
The Low Income Housing Tax Credit (LIHTC) Program is a credit against federal income tax liability each year for 10 years for owners and investors in low-income rental housing. The LIHTC program effectively uses tax policy to help develop and preserve affordable rental housing for low- and very low-income families.
2020 Active Property List This spreadsheet is a list of active LIHTC properties awarded through 2019.
Aging Affordable Rental Housing in Tennessee & the Need for Preservation [March 2016] The purpose of this report is to describe the age and physical condition of existing affordable rental housing properties in Tennessee, along with other risk factors for loss of affordable units, such as rental assistance contract expiration dates, to guide future discussions around affordable housing preservation in Tennessee.
Tennessee's Low Income Housing Tax Credit Program, 1987-2013 [December 2015] This report describes the characteristics of properties developed through the LIHTC program over time, the relationship to state and federal policy priorities, as well as the relationship to market and investment conditions.
Properties, Units, and 10-Year Allocation by County and Time Period [December 2014] This spreadsheet details the 10-year allocations of the LIHTC program, by county. The spreadsheet also includes the number of projects and units, by county.
Report on the Use of the LIHTC Program, 1987 - 2000 [September 2003] This report explains the background, guidelines, and policies of the LIHTC program. The report also dives into the program's activities and the areas served in Tennessee.