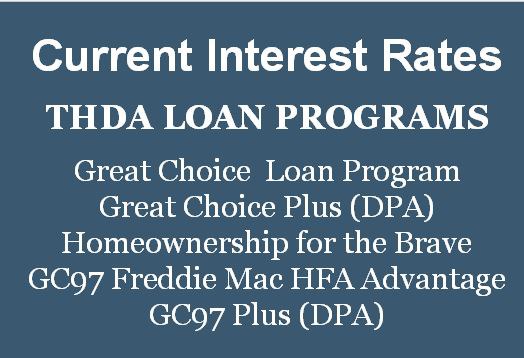 To become a THDA-approved REALTOR® and have your contact information shown in THDA's Find a REALTOR® page, you must register for and take the TREC-approved, 4-hour continuing education class offered through your REALTOR® association.
TREC Class Name and Number: THDA "Great Choice Mortgage Programs" - Course #7571
If the class is not shown on the upcoming education schedule through your association, you may check with the next closest association to see if the THDA Course 7571 is offered and take the class there. Or, you may ask your association's education manager to contact Debbie Reeves at 615-815-2152 or dreeves@thda.org to schedule a class for members of your association.

Great Choice Loan Program Advantages
Click here to find out how THDA's Great Choice Loan Program can help your buyers!

Criteria for THDA's Great Choice Loan Program
Your knowledge of THDA requirements may allow mortgage loan transactions to close with THDA as the investor.
First-Time Home Buyer or Eligible Repeat Homebuyer (Click here to see the Targeted Areas)
Single Family residence
Owner-occupied property
640 Minimum Credit Score
43-45% Debt-to-Income (43% manual underwrite - 45% DU/LP underwrite & automated underwrite)
GC97 Freddie Mac HFA Advantage Loan Program
Click here to learn more about the GC97 Freddie Mac HFA Advantage Program, offering a conventional mortgage loan with the options of down payment and closing cost assistance up to $7500.
Marketing Tools
THDA maintains a repository of flyers in English and Spanish that you can co-brand and use to help reach new clients. Check it out! Please contact Debbie Reeves or Josh McKinney to get the password needed to access those files.
For more information, contact:
Debbie Reeves, Real Estate Industry Advisor, at dreeves@thda.org or 615-815-2152 or 615-238-1480.
Josh McKinney, Real Estate Industry Advisor, at jmckinney@thda.org or 615-815-2158 or 865-394-8960

If your clients have questions regarding servicing of their THDA loans, they can contact Volunteer Mortgage Loan Servicing at custserv@volservicing.com
Great Choice Loan Program Matrix