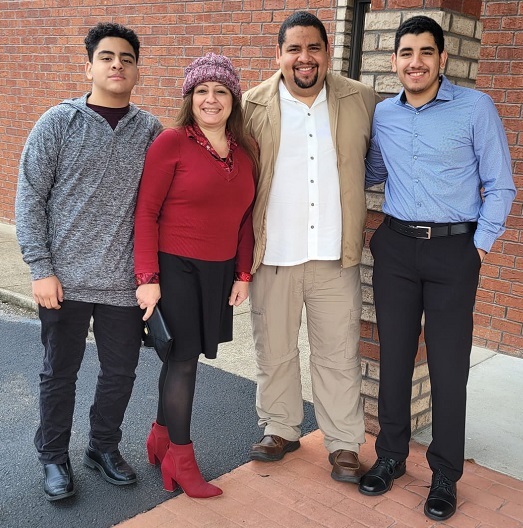 Homeowners Assistance Fund helps keep Lebanon family's homeownership dream alive.
Noura Aboud and her family were in a tough spot. Less than a year after buying a home, Noura lost her job in corporate communications. To add to it, the COVID-19 Pandemic had just begun.
To say things were tough for the Aboud family in Spring 2020 would be an understatement. With pandemic measures shutting down much of the country, and uncertainty surrounding the economy, it was hard to find a new job, Aboud said.
"My family and I were enduring very difficult financial hardship, as I had lost my job just as COVID hit; added to the strenuous situation was the challenge of finding another opportunity because everything was impacted by the pandemic," she said. "My husband and I had to take on several part time jobs to make ends meet."
They had no choice, Aboud said. In addition to paying for college-related expenses for their eldest son and her loans for graduate school, they had a mortgage they were responsible for. The family of four moved to Lebanon in 2017 from the Caribbean island of Grenada and by 2019 had purchased their first home with the help of a Great Choice Mortgage Loan from THDA.
"Our home is our biggest prize and goal, and we are not giving up our home," she said. "We started from scratch and worked our way up to provide a better future for our boys."
Although they managed to pay their mortgage, coming up with the money while supporting their sons was and her own education was proving unstainable. Aboud had found a new job, albeit with a much lower salary, only for her husband to have his hours cut at work.
After months of struggling, Aboud said she contacted THDA to see if there was any help available.
That's when Aboud and her husband learned about the Tennessee Homeowners Assistance Fund, she said. The program, which is administered by THDA, is designed to help those who have been financially impacted by the pandemic cover housing costs.
The assistance has been a tremendous help as the Aboud family works to recover from the financial burdens placed on them by the COVID pandemic, Aboud said.
"Leaving our home was not an option," she said. "The Tennessee Housing Assistance Fund really came through for us. It's been a blessing and the support that we've gotten from the people in the program has been wonderful. God is helping up slowly pick the pieces up and put things back together."
To learn more about THDA's Tennessee Homeowners Assistance Fund, visit THDA.org/HAF.