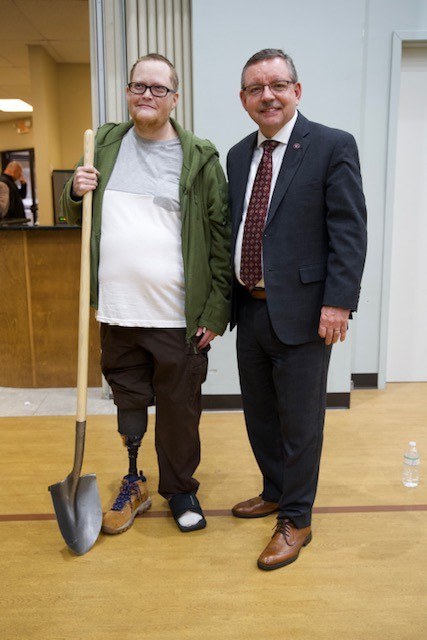 Housing crisis unites organizations across Tennessee



Sirens blare in the background as water begins to flood the small living room of Gary Jackson's house. He remains calm, as his priority is to get his medications together. Gary lost his leg many years ago. His three dogs are also on his mind. They won't survive if the water continues to rise.
As fast as he can, Gary gets two of his dogs on his couch for more height, while one dog runs outside to follow to his roommate, never to be seen again.
Having a prosthetic leg, Gary must plan for himself differently. If the water continues rising, he will not be able to swim for long. He knows his roommate went to get a rescue boat, but there's no telling how long he will have to survive until that boat comes. With a deep breath, Gary focuses on his dogs and piling furniture up for them to sit on while the water continues to rise.
After four and a half hours of standing in chest deep water, cold, wet, and exhausted, Gary finally hears the sound of a motor racing through water. He hears his roommate shout his name. He doesn't believe it, but now he's safe. His two dogs are ok. His roommate and one other man must come into the water filled home to help Gary get out. With tears in his eyes he wonders where he will go, where his roommate will stay. Who will help him when so many of his neighbors also suffered in this flood?
Gary was told to call the Tennessee Housing Development Agency by his roommate, who had used their services before. He called and was met with a kindness he was relieved to hear. Once Gary was transferred to his Continuum of Care (CoC) representative for Humphreys County, he qualified for an Emergency Housing Voucher (EHV), which helps pay rental costs and allows for immediate housing for Gary and his canine friends.
"She made it so easy…. She helped me with the application and getting a voucher for that very night. I felt like I was being cared for. Like my tragedy mattered to someone besides myself."
The process, Gary stated, was "wonderful and easy." Having a quick solution to an immediate need, Gary was able to find permanent housing outside of his home county, while coming back to help with debris.
THDA supported Gary Jackson at every step of the way, and told him of the programs who were coming to help in the flood area, including Appalachia Service Project, who are on schedule to build 100 homes for flood victims, thanks to grants and donations throughout the state.
Gary's home is the first of the 100 built by the ASP and was completed in July of 2022.
Photo of Jackson with THDA Executive Director Ralph Perrey by Christa Lannom.